Oct 31., 2017 / Fundraising
Holbeach Hospital receives donation from Bakkavor Pizza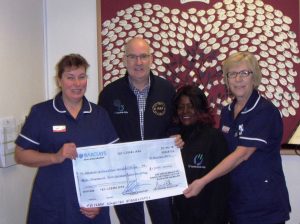 Holbeach Hospital are delighted after receiving a cheque for £1,200 from Bakkavor Pizza.
Ian and Gwen Savva of Bakkavor presented the cheque to Holbeach Hospital's Manager Maxine Winch and Deputy Manager Julia Bobey. Ian and Gwen are both part of Bakkavor Pizza SEF [Site Employee Forum] which is a group of employees that commit to helping other employees with any problems they may have, communicating between management and employees, organising staff events, running of a site staff shop and charity fundraising throughout the year.
Apart from their larger fundraising events where in the past they have donated to St Barnabas Hospice, Farm Africa, Macmillan Cancer support they also set aside £250 per month to support any local  groups etc. they can which have included Holbeach Brownies and St Marks Primary School.
The money they raised for Holbeach Hospital was achieved by selling hand prepared pizzas cooked in their own Wood Fired "WOODY" portable Pizza oven at the Holbeach Food Festival in July, Welly Wanging at the Bakkavor Fun Weekend also in July and a "Face Fit" competition that they ran on site.
Ian said "We chose to support Holbeach Hospital because not only being local, but many people who work at Bakkavor Pizza have had some sort of connection through family members or friends and they all have praised the outstanding care and compassion that has been received in what can be distressing times."
Hospital Manager, Maxine Winch was very grateful for the donation, "I would like to thank Bakkavor for their very generous donation; Holbeach Hospital has plans to expand the number of beds it can offer the community so the money will be put to excellent use. I would like to personally thank Bakkavor and their employees; everyone who contributed to this amount should be very proud of the amount donated. On behalf of the Council of Management and those who use our service I would like to extend my thanks for this donation."