We are always overwhelmed by the kindness of our local community and their support. We were nominated to be a Coop Community Champion last year and have now received a cheque for an amazing £1,180 to be put towards the creation of a hobby lounge for our residents.
Holbeach and East Elloe Hospital Trust held its 30th year anniversary Garden Party on 30th June 1-4pm.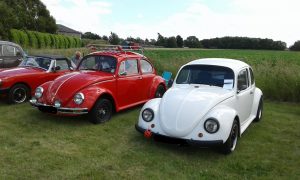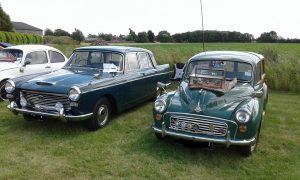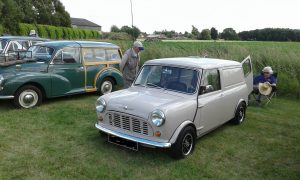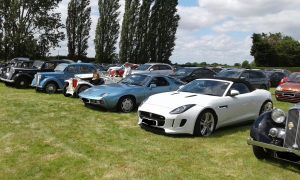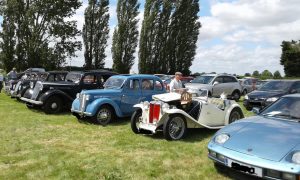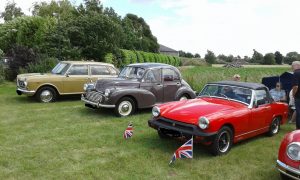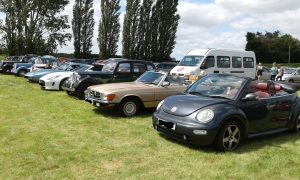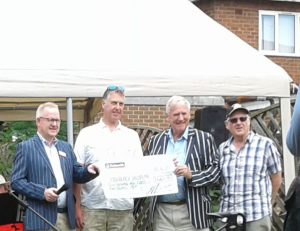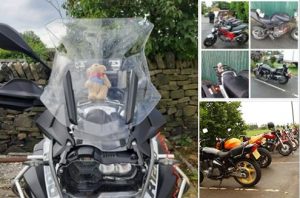 Our mascot teddy 'Slippers' had a great time at the Bike Meet on Saturday 8th June, despite the rain our Finance Assistant Millie and her family did such a great job, raising even more money to be split between Holbeach Hospital and Macmillan Cancer Support. The cakes were delicious too 😋. Thank you to everyone who came along.
Some brilliant and exciting news from Lincolnshire Coop; we will be one of the Community Champions for the Holbeach area from 8th September to 30th November 2019 and the donations raised will be going to the hobbies lounge.  Thank you to everyone who took the time to vote for us.  We  want our residents to have active and fulfilling lives, so the creation of a hobbies lounge will enable us to engage our residents with even more activities and allow them to carry on any hobbies they had before they came to stay with us.  The hobbies lounge will also be the hub of any intergenerational activities.
We're pleased to announce that our Coop Community Champion application has made the final shortlist to be put forward for voting. The voting will take place at their Members Evenings and also online.
Please visit https://www.lincolnshire.coop/ and sign in to your account and select 'Community Champions Vote 2019' and select Holbeach and East Elloe Hospital Trust to vote for us.
If we are selected every time you shop and use your dividend card, Lincolnshire Coop will give a donation to us for the period of one quarter. Voting closes 12th April and each member can only vote once.  Please let your friends and family know as every vote is important.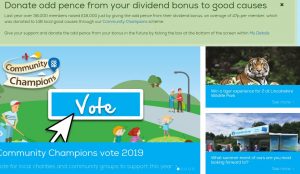 Money raised for each quarters will come from multiple sources such as:
We would like to say a big thank you to the wonderful Moulton Ladies Group, who very kindly presented us with a cheque for £100. The Ladies Group also made donations to six other charities at a special presentation evening. The seven charities included Abbeygate Care Home, Moulton Community Centre, Holbeach and East Elloe Hospital Trust, Mia Clucas Charity, The Moulton Mill, St Barnabas Hospice and Tonic Health. Each charity gave a presentation on their charity before being presented with a £100 donation.
We would like to thank Moulton Ladies Group and everyone who was involved in their fundraising efforts; it is very much appreciated and the donation will be put towards creating a new Hobby Lounge for our residents.
In May of this year Holbeach resident Kev Howard will be doing a mammoth ride on his 1250 Suzuki motorbike from John O' Groats to Lands' End, in just one day. For him, it's a personal goal but he is also hoping to raise a few pennies for two charities; Holbeach and East Elloe Hospital Trust and Macmillan Cancer Support. The journey itself will be over 800 miles. He is pictured here with Hospital Manager Maxine Winch and Deputy Manager, Lesly Pointer who wanted to show their support for his fundraising efforts. Our hospital residents will also be doing some motor-bike themed activities in the run up to his ride. If anyone wants to donate to support Kev, they can do so on the gofundme website https://www.gofundme.com and search 'JOGLE In A day' or click the link below:
Kev commented "This is something that I've been wanting to do for a long time. Previously I have made the journey camping along the way but I thought I would set myself the challenge to do it in just one day. It was my daughter who suggested raising money for charity at the same time. Through my own experiences I know the good work that both charities do."
Mr Turner of Holbeach visited us yesterday to present a cheque for a fantastic £950 to go to our Residents' Fund. Every year Mr Turner puts on the most spectacular Christmas light display outside his house, which is well known with people coming from near and far to see them. Thank you to Mr Turner for once again supporting our hospital and for everyone who so generously donated money. Our residents will benefit greatly from the donation which will pay for trips out and activities for them to enjoy
The gardens and patio area at the rear of Holbeach Hospital are in great need of redevelopment and as part of our 30th year anniversary celebrations this year we would like to upgrade this area to include raised beds and a raised pond to make it easier for wheelchair bound residents to enjoy the plants and do a little gardening. We think this is especially important for our end of life residents to be able to spend some time outside and make their last days special. We already have some funds available but still need to raise additional funds to cover the total costs of the project. If anyone or any business is able to donate there are various ways – send a cheque addressed to "Holbeach and East Elloe Hospital Trust" please send with a letter or card stating it is for the Garden Renovation Appeal, or by popping to reception and we will be happy to take any cash, card or cheque donations, or you can call 01406 422283 Mon-Fri 9-3pm and we can take card payments over the telephone (again please state the donation is for the Garden Appeal). Many thanks for considering our appeal and thank you to those who have already donated.
Eight new bedrooms have now been created and already have their first residents. The building work has been ongoing since the end of last year and involved the conversion of some old clinical rooms and the creation of new bedrooms upstairs. Manager Maxine Winch, commented "Our aim has been to offer more beds for use by the local community and to meet the ever-changing needs of the community we operate in. I am very grateful for how all of our staff, residents and their families have dealt with the necessary disruption and thank them for their patience during the building work. The new bedrooms are built to a very high specification thanks to the work of building contractors D Brown." Three of the new bedrooms have been furnished thanks to money donated by the Hospital's League of Friends.
The eight new bedrooms will be a mixture of re-ablement (rehabilitation) beds and nursing home beds. The rehabilitation beds are a new concept, where the hospital is working with the NHS to provide beds for people who are in need of rehabilitation or assessment before returning home from primary care hospitals. The residents are cared for by Holbeach Hospital but supported with Physiotherapy and Occupational Therapy teams provided by the NHS.
Chair of Directors, Chris Penney remarked that, "the new rooms are an additional asset to the community and were full within a week of opening. It is important that Holbeach Hospital remains sustainable in the future and these new bedrooms will assist with that. But we must not stand still; we still need to do more to ensure our future sustainability. I would like to acknowledge on behalf of my fellow directors a benefactor who has contributed a significant proportion of the funding for this project. The building work has highlighted that we need an ongoing programme of building work to upgrade the existing ageing building to bring it in line with changing standards." Holbeach Hospital is a registered charity and donations are always welcome.
Holbeach Hospital currently have a waiting list in operation for nursing home beds – if you would like to add your relative to the waiting list please email .
Holbeach and East Elloe Hospital Trust is owned and run by the community. After it was threatened with closure in 1988, local community leaders came together to raise funds to keep the facility open. The Trust provides beds for use by local doctors, nursing and residential home beds as well as reablement beds. We also have our own Physiotherapy clinic and have a visiting Warfarin clinic. The people of Holbeach saved their hospital and provided a resource which continues to grow as we undergo expansion. Compassion and a constant spirit of empathy are at the heart of everything we do.
2019 will be our 30th anniversary of being run by the community, having officially closed in March 1989 and reopened in September of the same year. We are planning several celebrations in 2019 to mark the occasion.
- PAGE 1 OF 3 -

×
Call Now Button