Jan 31., 2018 / Fundraising
Jack's fabulous festive Christmas lights display raises another £900 for Holbeach Hospital
Jack Turner of Fleet, is renowned for his wonderful winter wonderland Christmas light display, which he puts on every year to raise money for local good causes. This year once again, he has chosen to support local charity, Holbeach and East Elloe Hospital Trust.
This week, he presented Holbeach Hospital Manager, Maxine Winch, with a cheque for a fantastic £900.15. He also gave a further £100 to Age Concern. Hospital staff and residents would like to thank Jack and his family, as well as members of the public, for the generous donation
Each year, Jack Turner, of Fleet Road Holbeach, transforms his home and gardens into a winter wonderland of spectacular lights and dazzling displays which attract visitors from miles around to raise money for Holbeach Hospital.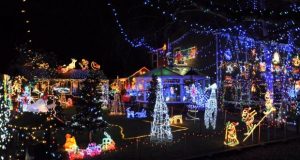 Maxine Winch, Manager, praised Jack and his family: "On behalf of Holbeach and East Elloe Hospital Trust, I would like to thank Jack and his family for his continued support and thank everyone who contributed to this fantastic amount.  We are very grateful for this kind donation, which will be of great benefit to our residents and the community we serve and will enable us to continue to provide the very best care and environment for the people who stay with us. The money will go towards the Resident's Fund which funds trips out, presents and other treats for our residents."