Holbeach Hospital resident, Alice Howe, celebrated her 104th  birthday on 1st November with cakes, balloons and many gifts and cards.  She spent the day surrounded by family and staff.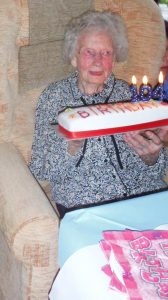 Alice was born on the 1st November 1912 and lived most of her life in the Coventry area before moving to Long Sutton to be closer to her family in 2003.  She spent most of her life working in industry and retired at the age of 70.  She enjoyed a long and happy marriage, reaching 58 years of married life before her husband passed away.
Alice has lived through both the World Wars and has vivid memories of the Blitz, as Coventry was heavily bombed. Alice has also lived through many other major events, including the Queen's coronation and wedding.
Alice lived completely independently on her own until September of this year and still maintains her independence and is enjoying her time at the Hospital.  Alice puts down her long life to taking everything in moderation and taking one day at a time.