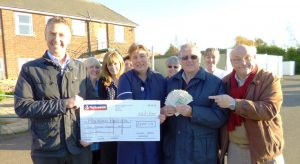 Hospital Manager, Maxine Winch, and other staff members met with members of the Fenland Working Weekend and Fenland Flywheelers on Friday 24th November, to receive cheques which will go towards hospital funds. In total nearly £800 was donated.
The Fenland Working Weekend attracts many tractor and farming enthusiasts from both near and far who are able to take their tractors and machines along to plough and cultivate the fields in the traditional way. Unfortunately Fenland Flywheelers has come to an end, and as it was a non-profit idea, it was been decided to donate the money left over in the kitty from previous meetings to the Holbeach Hospital funds.
Hospital Manager, Maxine, said "On behalf of the staff, residents and Council of Management, I would like to thank all of those involved in these two organisations who have contributed to the fantastic amount donated. We are very grateful for their continued support and the money will be put to excellent use."
Holbeach and East Elloe Hospital Trust wish to thank local lady, Gill Gosling, for her incredible donation of £800 after she asked friends and family members to donate to Holbeach Hospital instead of buying her birthday presents. Gill celebrated her 80th birthday on Saturday 28th October at Gedney Victory Hall.
Holbeach and East Elloe Manager, Maxine Winch, and Deputy Manager, Julia Bobey, met with Gill to accept her donation and personally thank her.
Maxine praised Gill's selflessness, "on behalf of all of the staff and residents, and the Council of Management, I would like to thank Gill for thinking of helping others to celebrate her 80th birthday.  I would like to thank Gill and all of her family and friends who very generously donated to this fantastic amount.  Holbeach Hospital is currently in the process of expanding in order to provide more beds to the local community so donations such as these are very important at this time. It will be of great benefit to our residents and the community we serve and enable us to continue to provide the very best care and environment for the people who stay with us."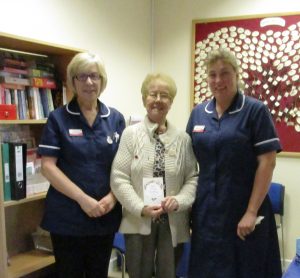 Alice was born on the 1st November 1912 and lived most of her life in the Coventry area before moving to Long Sutton to be closer to her family in 2003.  She spent most of her life working in industry and retired at the age of 70.  She enjoyed a long and happy marriage, reaching 58 years of married life before her husband passed away.
Alice has lived through both the World Wars and has vivid memories of the Blitz, as Coventry was heavily bombed. Alice has also lived through many other major events, including the Queen's coronation and wedding.
Alice lived completely independently on her own until a few years ago and still maintains her independence and is enjoying her time at the Hospital.  She celebrated her birthday with family and  some special visitors who had come all the way from America to see her.
Alice puts down her long life to taking everything in moderation. Happy Birthday Alice.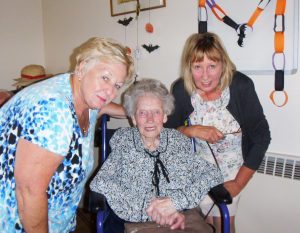 ×
Call Now Button