Mr Turner of Holbeach visited us yesterday to present a cheque for a fantastic £950 to go to our Residents' Fund. Every year Mr Turner puts on the most spectacular Christmas light display outside his house, which is well known with people coming from near and far to see them. Thank you to Mr Turner for once again supporting our hospital and for everyone who so generously donated money. Our residents will benefit greatly from the donation which will pay for trips out and activities for them to enjoy
Residents, their families and staff were treated to an afternoon of musical talent from local artist Travis Graham. Travis sang a variety of songs and handed out Valentine's hearts to residents. The entertainment was paid for by a generous donation from a family.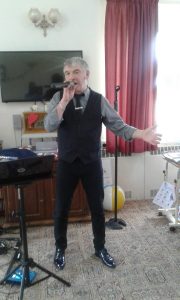 The gardens and patio area at the rear of Holbeach Hospital are in great need of redevelopment and as part of our 30th year anniversary celebrations this year we would like to upgrade this area to include raised beds and a raised pond to make it easier for wheelchair bound residents to enjoy the plants and do a little gardening. We think this is especially important for our end of life residents to be able to spend some time outside and make their last days special. We already have some funds available but still need to raise additional funds to cover the total costs of the project. If anyone or any business is able to donate there are various ways – send a cheque addressed to "Holbeach and East Elloe Hospital Trust" please send with a letter or card stating it is for the Garden Renovation Appeal, or by popping to reception and we will be happy to take any cash, card or cheque donations, or you can call 01406 422283 Mon-Fri 9-3pm and we can take card payments over the telephone (again please state the donation is for the Garden Appeal). Many thanks for considering our appeal and thank you to those who have already donated.

×
Call Now Button