We're pleased to announce that our Coop Community Champion application has made the final shortlist to be put forward for voting. The voting will take place at their Members Evenings and also online.
Please visit https://www.lincolnshire.coop/ and sign in to your account and select 'Community Champions Vote 2019' and select Holbeach and East Elloe Hospital Trust to vote for us.
If we are selected every time you shop and use your dividend card, Lincolnshire Coop will give a donation to us for the period of one quarter. Voting closes 12th April and each member can only vote once.  Please let your friends and family know as every vote is important.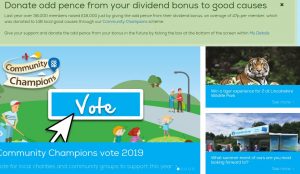 Money raised for each quarters will come from multiple sources such as:
We would like to say a big thank you to the wonderful Moulton Ladies Group, who very kindly presented us with a cheque for £100. The Ladies Group also made donations to six other charities at a special presentation evening. The seven charities included Abbeygate Care Home, Moulton Community Centre, Holbeach and East Elloe Hospital Trust, Mia Clucas Charity, The Moulton Mill, St Barnabas Hospice and Tonic Health. Each charity gave a presentation on their charity before being presented with a £100 donation.
We would like to thank Moulton Ladies Group and everyone who was involved in their fundraising efforts; it is very much appreciated and the donation will be put towards creating a new Hobby Lounge for our residents.
In May of this year Holbeach resident Kev Howard will be doing a mammoth ride on his 1250 Suzuki motorbike from John O' Groats to Lands' End, in just one day. For him, it's a personal goal but he is also hoping to raise a few pennies for two charities; Holbeach and East Elloe Hospital Trust and Macmillan Cancer Support. The journey itself will be over 800 miles. He is pictured here with Hospital Manager Maxine Winch and Deputy Manager, Lesly Pointer who wanted to show their support for his fundraising efforts. Our hospital residents will also be doing some motor-bike themed activities in the run up to his ride. If anyone wants to donate to support Kev, they can do so on the gofundme website https://www.gofundme.com and search 'JOGLE In A day' or click the link below:
Kev commented "This is something that I've been wanting to do for a long time. Previously I have made the journey camping along the way but I thought I would set myself the challenge to do it in just one day. It was my daughter who suggested raising money for charity at the same time. Through my own experiences I know the good work that both charities do."

×
Call Now Button